New Visa requirement for travelling to New Zealand
From October 2019, non-residents traveling into New Zealand will require an ETA (Electronic Travel Authority). This is a simple 10 minute on-line process. This now brings New Zealand into line with our partnered Visa Waiver countries such as the USA & Canada etc.
Follow this link to get to the NZeTA information and application page
https://www.mmigration.govt.nz/new-zealand-visas/apply-for-a-visa/about-visa/nzeta
all ages & Physical abilities welcome & we can supply quality lodge rifles & SHOTGUNS. OVER 35 years guiding & outfitting in n.z.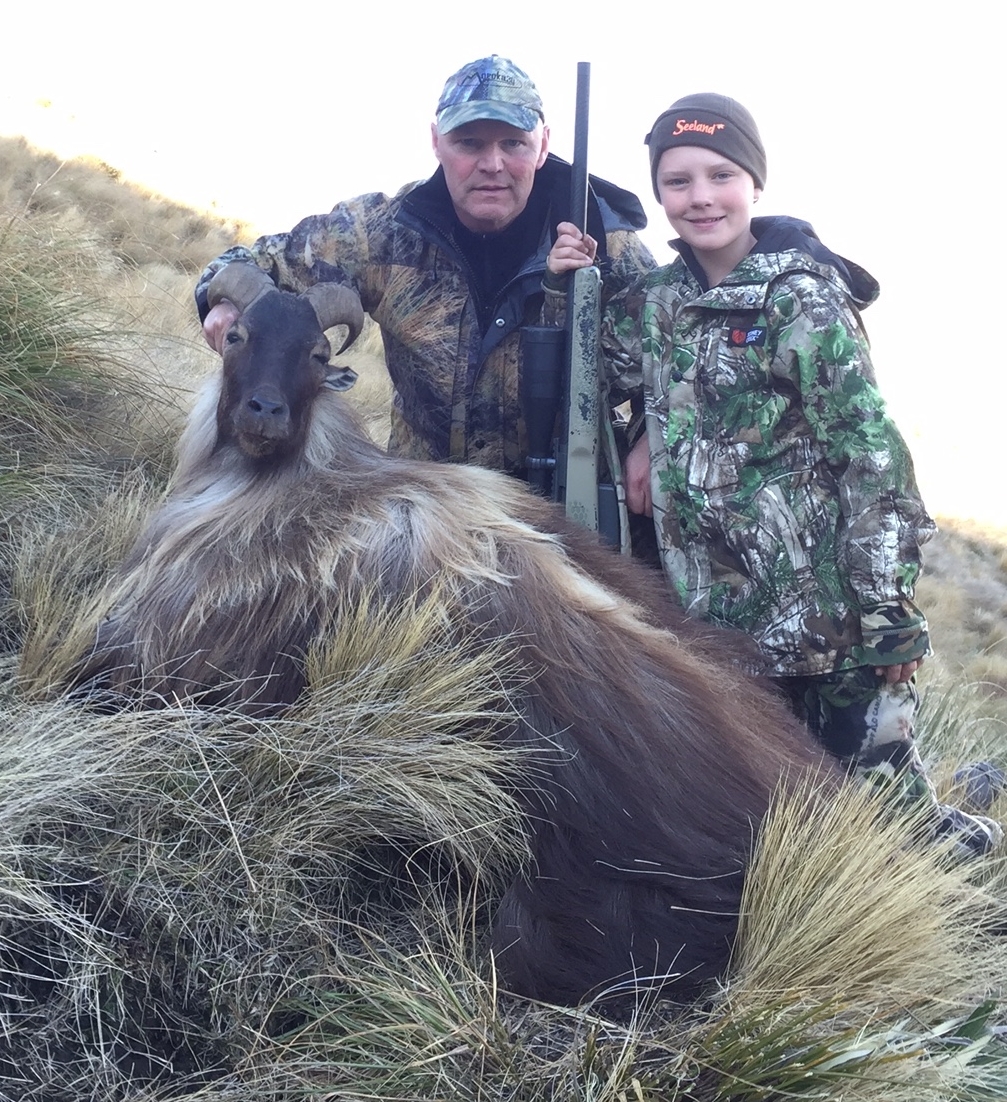 13 year old Adam's spring bull Tahr taken after a big day on the mountain with with his dad Knud & guide Hamish. First time shooting a magnum rifle, a great shot with Hamish's custom 7mm magnum & 180 grain Berger bullet.
MOUNTAIN & ESTATE HUNTING IN NEW ZEALAND
WE OFFER EXCEPTIONAL VALUE for hunts combining new zealand's number one purpose built hunting lodge and hunting that all of your family will love!
2020 RED STAG TROPHY HUNTS
Starting at $5500 2 hunters x 1 guide
330-360 SCI trophy quality
Hunting season: 14th February - 30th July
Our Stags have massive heavy beams, exceptional length of tines and some have drop points and other non-typical features.
2020 FOOT TAHR TROPHY HUNTS
$8500 (1x1) $7500 (2x1)
5 days | 4 nights
Hunt for the best trophy bull Tahr we can find. Rifle & Archery. Rolling average of 12 6/8 inches & 8 1/2 years old. Hunting season open all year for Tahr.
Harvest a 2nd trophy Bull for $4950
Add non-hunter guest for $800
* Archery Tahr hunts require 2 extra days of hunting. Additional fee is $600 for the 2 days.
$12,500 (1x1) $11,500 (2x1)
6 days | 5 nights
Best Tahr we can find - Stag 330-360 SCI quality included (Stag can be upgraded during hunt)
Add non-hunter guest for $1000 (just $200/night at New Zealand's finest custom log hunting lodge)
2020 3 Species Lodge combo
RED STAG | TAHR | FALLOW
8 days | 7 nights
$15,500 (2x1) $16,500 (1x1)
All foot hunting with 4WD access. No helicopter fees required. Our most popular hunt!
Stag (330-360 SCI), Tahrt & Fallow best we can find.
$12,500*
7 days | 6 nights
Hunt Tahr on foot - Chamois Helicopter assist
*Includes 1 hour of helicopter time
2020 THE LODGE HUNT FOR FOUR
2020 season
$22,000
9 days | 8 nights
RED STAG | TAHR | CHAMOIS | FALLOW
CONTACT US for full details on this outstanding hunt!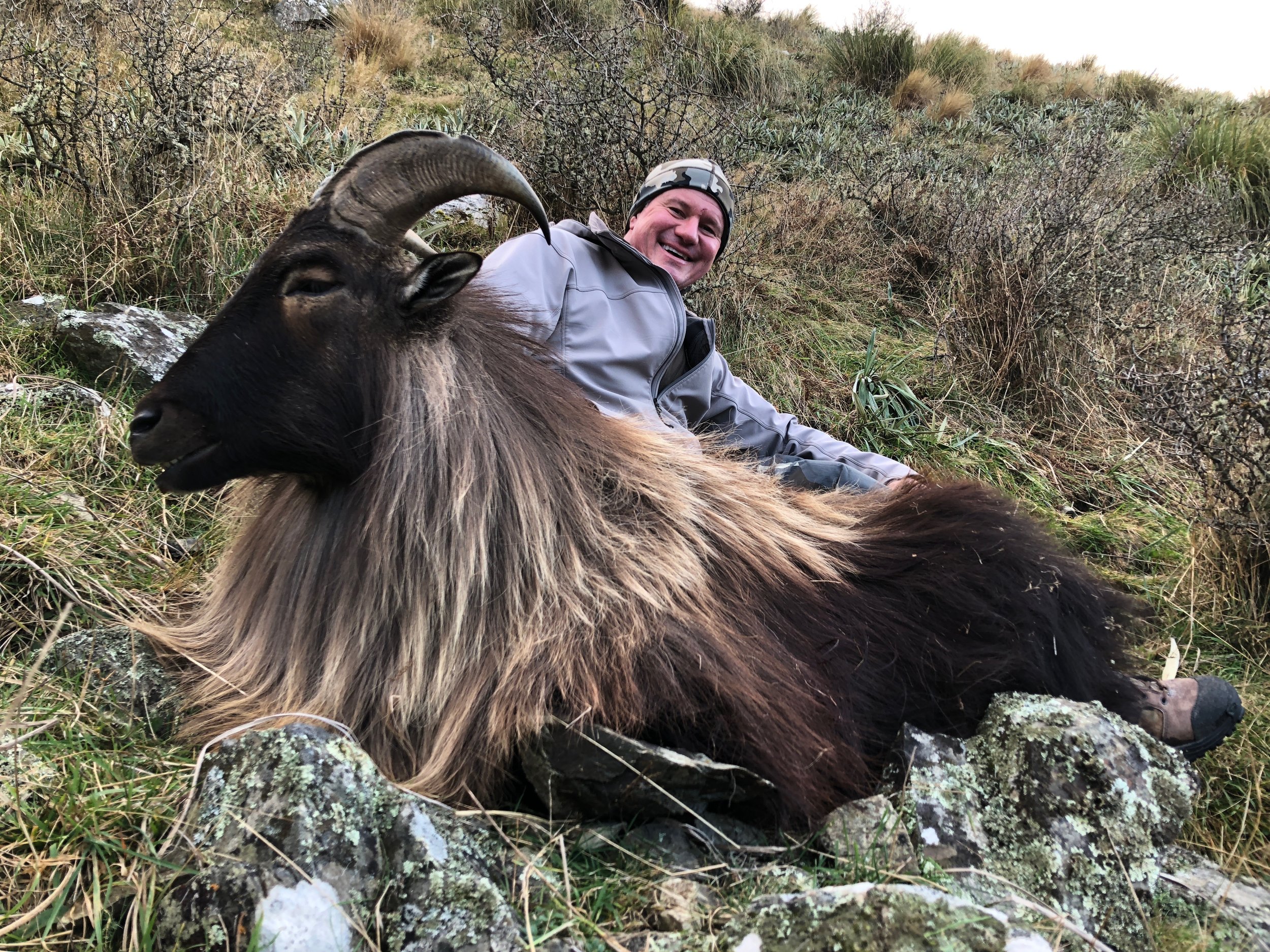 Season: 1st August - 30th October each year
$7500/per hunter (minimum 2 hunters)
5 days | 4 nights
Exceptional post rut bull Tahr foot hunting. See mobs of multiple bulls. The bulls are in full winter skin and make for an outstanding trophy mount. Add management nanny Tahr for $1000 trophy fee.
Limited number of Chamois permits available also.
selection of RECENT hunt photos